Discussion Starter
·
#1
·
Not here for any judgement! Just a little appreciation post.
Starting Pic: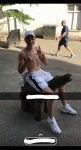 As you can tell, I'm one of the youngest on the forum i reckon. Starting pic is taken at about 16 years old. Currently just turned 18. Started off very skinny and hardly ate, one meal a day was optimal for me which was quite destructive.
I've started off in the gym properly just before the very first lockdown. Was challenging to keep up with all of the closures and stay motivated but here i am.
Recent Progress Pics:
Currently 18 years old, Sitting at around 67kg.
On a Test 300mg and Tbol 50mg Cycle.
Any helpful and good hearted advice about gym and working out in general is appreciated. Thank you.